On day two of the KINDINMI conference Put yourself in someone else's shoes, Sarah Campbell (Team Sweden) led a guided walk of Uppsala with the title "From taxonomy to translanguaging – a glimpse into language and inclusion in Uppsala"
Ably assisted by Kimberly Norrman, doctoral student in Curriculum Studies and Multilingualism, Sarah took the participants to eight stops around the historic centre and university district of Uppsala, and at each stop presented research linking the location to the Kindinmi pedagogic kit themes of migration, situation, participation, representation, communication, and connection.
At the Institute for Language and Folklore the group heard about research carried out into Halloween in Sweden, and considered the processes by which traditions migrate along with those who celebrate them, and the ways in which space for those traditions can be created within a society.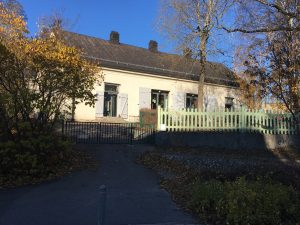 At Pelle Svanslös Open Preschool, Sarah presented aspects of her doctoral research into languaging practices amongst plurilingual families at these drop in playgroups, as well as issues relating to government policies on migrant mothers' trajectories into work in Sweden. A walk up the hill to the distinctive Uppsala Castle allowed the group to hear about an exhibition into the lives and living conditions of vulnerable EU migrants and their families, currently being shown at Fredens Hus peace museum within the castle.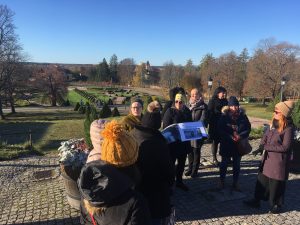 The location high above the city allowed the perfect viewpoint to look down on Uppsala scholar Carl Linnaeus' famed botanical gardens.  The group learned about Linnaeus' famous contribution to the creation of a lingua franca for scientific work, as well as hearing about research by Jennie Nell at Stockholm University which showed that Linnaeus frequently eschewed prestige forms and conventions in favour of writing in his first language Swedish and his local dialect instead of Latin,  In doing so he became perhaps inadvertently, an early pioneer for plurilingualism and translanguaging in Sweden.
A brief stop at Uppsala's landmark university library Carolina Rediviva allowed the group to examine antique documents, including the Carta Marina – the first map to depict Scandinavia in a way that would be recognizable today, and some of Linneaus' original writings.
A subsequent visit to Uppsala's modern day city library drew on a 2018 report by eight Swedish library regions to highlight the important role a library can play for newly arrived families arriving in and establishing themselves in a new country, encompassing themes of language learning, belonging, finding something with which to occupy oneself, purpose, meeting others, and access to books in ones first language. Pictured here is cargo-bike library Bibbi, one of the methods used by the city library to reach out to a greater number of people, alongside initiatives such as multilingual 'cloakroom libraries' in the city's preschools. Finally, a report of the tour is duty bound to include perhaps the most unusual stop on the tour – a visit to a singing bin, part of Uppsala's Garbage Choir.  Located at Fyris Torg, which features in the well known Swedish folk-pop song Varm Korv Boogie (hot dog boogie) the bin depicts the tune's songwriter, Owe Thörnqvist, a son of Uppsala who celebrated his 90th birthday this year.
Also located at Fyris Torg is the site of a once popular Uppsala institution, the Politiska Knuten or 'political node' – a public notice board in existence between around 1900 and 1920, where a local printer would post the latest in royal and political news and where Uppsala residents would gather to digest and discuss the affairs of the day – a sort of early social media.  Reflecting on the likelihood that at the time of the Politiska Knuten, much of that discussion would have been in Swedish, we reimagined it for a multilingual Sweden in 2019, and conducted a brief survey of the linguistic landscape around us, finding Swedish, English, Thai, Japanese and Spanish all visible from the site of the long forgotten political node.