University of Aberdeen organizes a day of learning conversations on 14 September 2019 with Dr Thomas Bak, Lucinda Geoghegan, Alison Forbes and students from the BA Childhood Practice and MEd Early Years degrees at University of Aberdeen.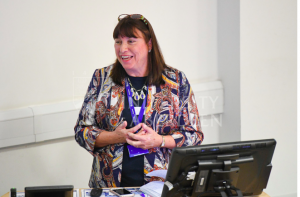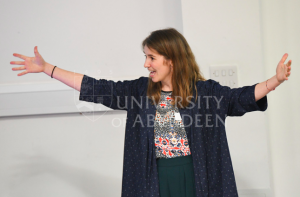 The KINDINMI project is a collaborative and comparative research project on local, regional, national and European strategies and good practices concerning the inclusion of young migrants aged 6 months to 7 years in kindergarten/preschool education as a means to encouraging better opportunities for them as well as their families for social orientation and inclusion in the host country. To search such a goal, it is necessary to improve the initial and in service training of educators in the kindergarten/preschool training, in which all partners as teams from Austria, Czech Republic, Scotland and Sweden are invited on different levels.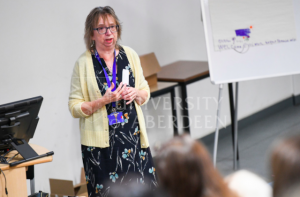 Three scholars are invited to exchange their thoughts on the topic.
Dr Thomas Bak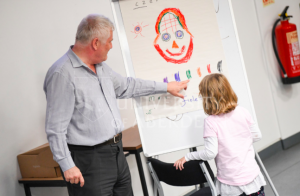 Born and raised in Cracow, Poland, as son of a Polish-speaking father and German-speaking mother, Dr Thomas Bak has been confronted with different languages from an early age. Raised by his parents to only speak Polish, he went on to learn many languages alongside his medical studies in Germany and Switzerland, with placements in Turkey, Japan and UK. His doctorate focuses on language disorders caused by brain diseases ("aphasias") and he has worked in psychiatry, neurology and neurosurgery in Bern, Berlin, Cambridge and Edinburgh.
Recently, Thomas has been working on the impact of language learning/use and multilingualism on cognitive functions, such as attention, across the whole lifespan and in brain diseases such as dementia and stroke. In the MEITS project, he leads Strand 6 (Cognition, health and well-being), conducting studies from Scotland, through India to China and Singapore. He speaks 4 languages on a daily basis (English, Polish, German and Spanish) and always enjoys learning new ones.
Lucinda Geoghegan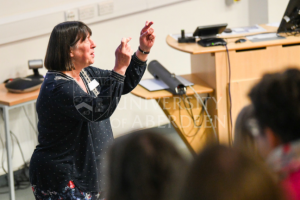 Lucinda Geoghegan graduated in music from the University of Edinburgh in 1982, completed a postgraduate teaching qualification at Moray House College of Education and trained with the Kodály Institute of Britain where she gained an Advanced Diploma in musicianship with Distinction. She worked as a secondary music teacher in Edinburgh before deciding to specialise in Primary and Early Years Music Education. She was also member of staff with the Royal Scottish National Orchestra Junior Chorus for 16 years and was Director of the NYCoS West Lothian Choir for 8 years.
She is currently a theory and musicianship lecturer at the Royal Conservatoire of Scotland and is a regular tutor, member of the Trustees and Chair of the Education Planning Board for the British Kodály Academy. In 2017 Lucinda was elected as a Director on the Board of the International Kodály Society.
Lucinda is Creative Learning Director for the National Youth Choir of Scotland and her work involves Staff Development training across Britain presenting workshops on Kodály musicianship and methodology. She is also a guest lecturer on the summer and yearly courses at the Kodály Institute in Kecskemét, Hungary and in addition has delivered workshops in Ireland, Germany, Holland, Singapore, Indonesia, Malaysia, Thailand, Taiwan, Turkey, Australia, Canada and USA.
Alison Forbes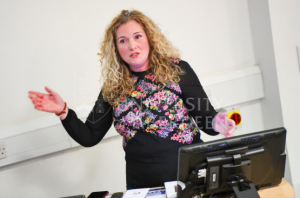 Alison Forbes trained as a primary teacher and worked in a range of Early Learning and Childcare (ELC) settings before being appointed headteacher.
Over the past ten years Alison has represented colleagues in a range of improvement groups. She has been involved in developing training programmes for aspiring leaders within the ELC sector in Glasgow. Alison has worked with Education Scotland as an Associate Assessor and is currently involved in two West Area Partnership groups exploring quality and leadership pathways in preparation for the expansion of ELC entitlement by 2020. Alison has been a participant in the SCEL framework advisory group and continues to be involved in the development of the framework for leaders within ELC.
Alison was delighted to receive her SCEL fellowship in June 2017 and looks forward to working collaboratively with the other cohorts of fellows across the system to effect change and ultimately improve outcomes for children in Scotland, working towards achieving excellence and equity in education.